► Watch Movie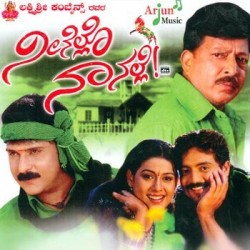 Neenello Nanalle
(ನೀನೆಲ್ಲೊ ನಾನಲ್ಲೆ)
24th July 2006- Drama
The film tells the story of an NRI on returning to India falls in love with a village girl and how he goes about winning over her and her overprotective farmer brother.
..
Movie Cast
[
Top ⇑
]
Movie Details
[
Top ⇑
]
Movie Name
Neenello Nanalle
Original Language Name
ನೀನೆಲ್ಲೊ ನಾನಲ್ಲೆ
English Translation
I Am Where You Are
Year
2006
Release Date
24th July 2006
Languages
Kannada
Storyline
The film tells the story of an NRI on returning to India falls in love with a village girl and how he goes about winning over her and her overprotective farmer brother.
Story Summary
Santosh (Aniruddh) is a rich, city boy, born to billionaire parents and brought up in London. On the other hand, Siri (Rakshita)is a traditional, simple desi girl from Karnataka who is brought up by her only brother, Veera (Vishnuvardhan). He is heartbroken when their father marries another woman and throws them out of the house, humiliating them on the way. Their mother dies and her tomb is built on the small land which they own until the zamindar tells them that it is his land, since their mother had taken a loan from the man. Veera volunteers to work day and night, to pay off the loan as long as they don't tear down his mother's tomb. The Zamindar agrees and the local station master helps them. Slowly Veera and Siri grow up. One day, Lalitha, Siri's best friend, comes to their house to invite Siri to their house as she is getting married. Lalitha's cousin, Santosh also arrives on the same day with his mother, Janaki (Chitra Shenoy).

Slowly Santosh and Siri fall in love but Santosh's mother does not bear it as Siri is not as rich as them, and is thus not to their standards; Santosh is also to be married to Janaki's brother's business partner's daughter, Dolly. Janaki humiliates Siri as well as Veera, who arrives a minute before, and both are thrown of the house after Janaki accuses them of trying to entice and trap Santosh. When Santosh learns of this, he goes to Siri's house and pleads to her brother to accept him. Veera gives him a chance, just like he was given a chance by the Zamindar when he was little. Santosh is tasked to take care of the cows, clean up after them and grow more crops than Veera by the end of the season; if he does not, Santosh will be thrown out of the village and can never see Siri again. The Zamindar and his son is not happy as the Zamindar's son wanted to marry Siri. With them and Dolly and her father trying to get Santosh to lose the competition, Santosh has to work hard for his love, eating red chillies and rice everyday, even though he can't bear it. Through many antics from the Zamindar's side and Dolly's side, Santosh eventually proves his love for Siri to Veera, and succeeds in growing more grains. However, Zamindar & his son kidnap Siri and then later tries to rape her. A fight takes place in which Santosh kills the Zamindar's son. Veera, after realizing that Santosh and Siri should be together, takes the blame for this and spends 5 years in prison. The movie ends with Veera's release from prison which is also when Siri and Santosh get married, in everyone's presence. Janaki then accepts Siri to be her daughter-in-law.
Run Time
157 Mins
Movie Crew
[
Top ⇑
]
| | |
| --- | --- |
| Writer (Screenplay) | Dinesh Babu |
| Music Director | Ramesh Krishna |
| Producer | D K Devendra, G G Chandra Shekhar, K Manju |
| Cinematography | H C Venu |
| Writer (Lyrics) | K Kalyan, Kaviraj |
| Writer (Dialogue) | Nanjunda |
| Film Editing | P R Sounder Rajan |
| Assistant Director | Dushyanth Kumar, Chalapathi, Basavaraj |
| Art Director | Ismail, Hosamane Murthy |
| Sound Recording | Saravanan, Mahendra |
| Choreography | Murali, Imran Sardhariya, D K S Babu |
| Makeup | Ravi |
| Playback Singer | Hemanth Kumar, Rajesh Krishnan, Shankar Mahadevan, Sumangali, Tippu |
| Production Manager | A Suresh, Ramu, Vijaykumar, Ravishankar |
| Costume | Gandasi Nagaraj, Keerthi Vishnuvardhan |
| Stills | Digital Srinath |
| Publicity Design | Mani |
| Director (Associate) | R Anantha Raju |
| Production (Banner) | Lakshmishree Combines |
| Stunts | King Palaniraj |
| Public Relations | Nagendra |
| sound effects editor | Shankar |
| DTS | N Kumara Velu |
Interesting Facts and Trivia
[
Top ⇑
]
The plot of the film also drew comparisons to the Bollywood films, Maine Pyar Kiya (1989) and Pyaar Kiya To Darna Kya (1998).
Similar/ Related Movies
[
Top ⇑
]
a 2009 movie by Dinesh Babu
Actors & Actresses: Vishnuvardhan, Avinash, Manasi
Drama, Action
2010 movie by Dinesh Babu
Actors & Actresses: Vishnuvardhan, Suhasini Maniratnam, Mukesh Rishi
Family, Drama
2003 movie by P Vasu
Actors & Actresses: Vishnuvardhan, Nagma, Ashalatha
Drama
a 2007 movie by Om Saiprakash
Actors & Actresses: V Ravichandran, Jennifer Kotwal, Kamna Jethmalani
Drama
a 2007 movie by Dinesh Babu
Actors & Actresses: Jaggesh, Ananth Nag, Ranjani
Drama, Comedy
a 2008 movie by Dinesh Babu
Actors & Actresses: Ananth Nag, Komal Kumar, Aishwarya
Drama, Comedy
a 2008 movie by Nagashekhar
Actors & Actresses: Golden Star Ganesh, Ananth Nag, Roma Asrani
Drama
2008 movie by Dinesh Babu
Actors & Actresses: Jayanthi, Rekha, Doddanna
Romance, Drama
a 2008 movie by G Magesh Kumar
Actors & Actresses: Naveen Krishna, Master Harshith Naveen Krishna, Rangayana Raghu
Drama, Comedy
a 2009 movie by Dinesh Babu
Actors & Actresses: Yogesh, Sharan, Rangayana Raghu
Drama, Comedy