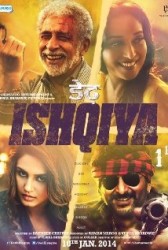 Dedh Ishqiya
(डेढ़ इश्क़िया)
10th January 2014- Comedy, Thriller
Dedh Ishqiya is a 2014 Indian black comedy thriller film directed by Abhishek Chaubey. It is a sequel to the 2011 critically acclaimed Ishqiya which is produced by Raman Maroo and Vishal Bhardwaj.
..
Dedh Ishqiya: Pictures, Posters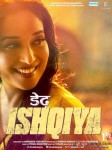 Dedh ishqiya 2014 movie poster 1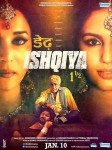 Dedh ishqiya 2014 film poster poster 2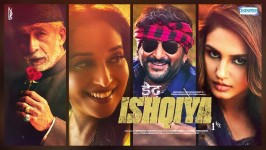 Dedh ishqiya 2014 film poster poster 3
Movie Cast
[
Top ⇑
]
Movie Details
[
Top ⇑
]
Movie Name
Dedh Ishqiya
Original Language Name
डेढ़ इश्क़िया
English Translation
One and a half love
Year
2014
Release Date
10th January 2014
Languages
Hindi, Urdu
Storyline
Dedh Ishqiya is a 2014 Indian black comedy thriller film directed by Abhishek Chaubey. It is a sequel to the 2011 critically acclaimed Ishqiya which is produced by Raman Maroo and Vishal Bhardwaj.
Story Summary
Khalujan (Naseeruddin Shah) and his nephew Babban (Arshad Warsi), a thief duo, pose as a Nawab and his attendant, and manage to run away with a prized necklace from a jewellery shop. In the police chase they get separated, while Khalujan is hurt. Months later Babban traces Khalujan again, this time posing a nawab, at a poetry contest. It is a mushaira organized by Begum Para (Madhuri Dixit), the widowed Begum of Mahmudabad as per the wishes of her deceased husband. The winner would win the Begum as bride and in turn become the Nawab of Mahudabad. However, by the opening night, Babban traces Khalujan. Soon he falls in love with Begum Para's assistant, Muniya (Huma Qureshi), while Khalujan has his heart set on Begum herself.

Gradually the story progress a plot to kidnap the Begum is revealed. To complicate the matters there is another suitor in the fray, a local MLA-gangster Jaan Mohammed (Vijay Raaz), who posing as a poet, making a poet Nawab Italwi (Manoj Pahwa) write poetry for him in captivity. Khalujan tries to impress the Begum by giving her the prized necklace they stole earlier but on the final day Begum declares Jaan Mohammed as her to be husband and new nawab of Mahmudabad. Disappointed Khalujan approaches begum with a gun just before a masked man kidnaps her at gun point. Khalujan chases them and blocks their way only to discover that the masked man was Babban and Begum has plotted her own kidnapping to extort money from the new to be nawab (now Jaan Mohammad) as the Begum was left bankrupt by her late husband.
Babban calls Jaan Mohammed to bring 10 crore ransom money to a railway station who now is aware of Begum's plan. All four reach the railway station to collect money but find the bag empty and surrounded by Jaan Mohammad's goons. Much to their good fortune Nawab Italwi arrives with police force and cross-firing starts. Begum and Muniya escape from the situation leaving behind Babban and Khalujan only to be arrested. One and half month later both get bail and a message from Begum and Muniya who are now settled in an unknown city by selling off the prized necklace. Movie ends with the duo once again surrounded by Mushtaq (Salman Shahid) and his gang.
Run Time
148 Mins
Movie Budget
INR 1500000000
Gross Income
INR 4570000000
Movie Crew
[
Top ⇑
]
| | |
| --- | --- |
| Writer (Screenplay) | Abhishek Chaubey, Vishal Bhardwaj |
| Music Director | Vishal Bhardwaj |
| Producer | Raman Maroo, Vishal Bhardwaj |
| Production Company | Shemaroo Entertainment, Vishal Bhardwaj Pictures |
| Cinematography | Satyajit Pande |
| Writer (Lyrics) | Gulzar |
| Writer (Dialogue) | Vishal Bhardwaj |
| Film Editing | A. Sreekar Prasad |
| Assistant Director | Tripathi Ankur, Celina John, Sabrina Khan, Aalaap Majgavkar, Rahil Patel, Chandradeep Singh Rathore |
| Co-Producer | Mansi Maroo, Rekha Bhardwaj |
| Choreography | Remo DSouza, Birju Maharaj |
| Production Manager | Rakesh Mishra |
| Production Controller | Akshay Powale |
| Production Design | Subrata Chakraborthy, Amit Ray |
| casting | Honey Trehan |
| Costume Designer (Assistant) | Ankita Jha |
| Editor (Assistant) | Aalaap Majgavkar |
| Casting (Associate) | Jitendra Rai, Padam Mishra, Chander Nath Mishra, Taran Bajaj |
| Associate producer | Vikas Mehta, Sanjay Roy |
| line producer | Anandita Sarkar |
| post-production supervisor | Tripathi Ankur, Aalaap Majgavkar |
| Script Supervisor | Soma Roy |
| second unit director | Honey Trehan |
| additional assistant director | Lubna Yusuf |
| creative supervisor | Saurabh H. Shah |
| behind the scene | Saurabh H. Shah |
| Marketing Manager | Gagan Meshram, Faiz Akhtar |
| music producer | Clinton Cerejo, Ketan Sodha, Simaab Sen |
| backing vocals | Surabhi Dashputra |
Interesting Facts and Trivia
[
Top ⇑
]
Arshad Warsi stated that he was paired with Huma and Madhuri was paired opposite Naseeruddin Shah.
Its seven day global total stands at INR25.03 crore (US$3.9 million) nett.In its second week the movie made a total of INR7.86 crore (US$1.2 million).
Dedh Ishqiya opened with an average occupancy at screens with a screen count of 1000–1200.The film was made on a budget of around INR15.00 crore (US$2.4 million) including its print and advertising.
First look of the film was released on October 25, 2013 and the trailer got released on November 8, 2013.
Madhuri Dixit performed mujra to a song titled Apne Karar Mein. Pandit Birju Maharaj choreographed the dance sequence for Madhuri Dixit for the film.
The shooting was initially to start in September and was shifted to November later, but it was postponed even further. The shooting of Dedh Ishqiya began on 27 February 2013. The Mahmudabad palace near Sitapur was spruced up for the shoot.
Its seven-day breakup is INR2.72 crore (US$430,000) on Fri, INR3.74 crore (US$590,000) on Sat, Rs INR4.90 crore (US$770,000) on Sun, INR1.94 crore (US$300,000) on Mon, INR2.84 crore (US$450,000) on Tue, INR1.88 crore (US$300,000) on Wed and INR1.62 crore (US$250,000) on Thu.
The role of supporting actress first was offered to Asin Thottumkal but, she refused to work in a supporting role in Dedh Ishqiya and in one interview she said that she thought that her role is not very attractive so, she left the project. Kangana Ranaut then signed Dedh Ishqiya and said she was going to start shooting soon. But in December 2012 she opted out due to date issues. Huma Qureshi replaced Kangna Ranaut.
movies distributors shares were sold for INR13.2 crore (US$2.1 million).
At a private party, the producers of Ishqiya, Shemaroo and Vishal Bhardwaj, announced the sequel with the same cast and crew. In April 2012, Madhuri Dixit signed on for the sequel of Ishqiya, her first film after moving back to the country in November 2011 to play a grey character called Shahi Begum.
The movie has raked in Rs 5.39crores nett ($876,000) at the Overseas Box Office in its opening week.
Quotes
[
Top ⇑
]
National award-winning critic Baradwaj Rangan praised the movie in his website, saying "This, really, is how sequels should be made, hewing close enough to the earlier film(s) so that they seem part of a cinematic continuum, and yet different enough so that we don't feel we're watching the same film all over again."
In a positive review, Deepanjana Pal from Firstpost praised director Chaubey the most, saying: "Chaubey is two films old and compared to Ishqiya, Dedh Ishqiya is far more elaborate, complicated and ambitious. Like a skipping stone, the film touches upon a variety of genres — action, comedy, romance, social critique — and Chaubey handles them deftly".
The film has also been praised for its language and getting Urdu back into the film industry. Shoaib Daniyal from NewsYaps says that "the most mellifluous Urdu is spoken" in Dedh Ishqiya and "Chaubey and Bhardwaj take advantage of the register to produce some crackling repartee and wit."
Anupama Chopra, the Hindustan Times movie critic said, "Dedh Ishqiya is worth watching just for Abhishek Chaubey's ambition. He is not constrained by the demands of the box office."
Similar/ Related Movies
[
Top ⇑
]
a 2014 movie by Anurag Kashyap
Actors & Actresses: Rahul Bhat, Ronit Roy, Tejaswini Kolhapure
Thriller
2014 movie by Samir Tewari
Actors & Actresses: Soha Ali Khan, Arshad Warsi, Rajesh Balwani
Comedy
a 2014 movie by Shekhar Suman
Actors & Actresses: Adhyayan Suman, Ariana Ayam, Deepti Naval
Thriller, Romance, Family
a 2013 movie by Aditya Datt
Actors & Actresses: Paresh Rawal, Rajeev Khandelwal, Tina Desai
Thriller, Mystery, Horror
a 2004 movie by Vijay Krishna Acharya
Actors & Actresses: Aamir Khan, Abhishek Bachchan, Katrina Kaif
Thriller, Action
2014 movie by Faizal Khan
Actors & Actresses: Atif Jamil, Ibra Khan, Roselyn Dsouza
Thriller
2014 movie by Amit Khan
Actors & Actresses: Makrand Deshpande, Sanjay Mishra, Rajesh Khattar
Comedy