► Watch Movie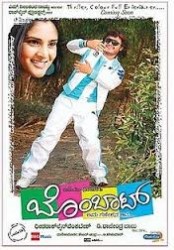 Bombat
(ಬೊಂಬಾಟ್)
11th July 2008- Drama, Romance
A 2008 Kannada Drama, Romance movie by D Rajendra Babu starring: Golden Star Ganesh, Ramya, Mukesh Rishi
..
Movie Cast
[
Top ⇑
]
Movie Details
[
Top ⇑
]
Movie Name
Bombat
Original Language Name
ಬೊಂಬಾಟ್
Alternative Names
Bombaat ,
Year
2008
Release Date
11th July 2008
Languages
Kannada
Story Summary
Shalini(Ramya) daughter of Police commissioner (Avinash), lands in the city only to find that a street rowdy called Anand (Ganesh) is on a rampage. But little does she know that Anand is a good Samaritan at heart.

Meanwhile Shalini comes across a sadist (Adi Lokesh) who wants to marry her at any cost. He is also the son of a big mafia Don (Mukesh Rishi). The mafia group goes to the Police Commissioner's house to force the marriage. The Police commissioner seeks the help of Anand and makes his daughter stay with him for a month in his den. How Anand saves Shalini and what happens to the bad guys make up the rest of the story.
Run Time
136 Mins
Movie Crew
[
Top ⇑
]
Interesting Facts and Trivia
[
Top ⇑
]
The film was much anticipated movie and had a very big opening at the box office. The movie received mixed to negative reviews from critics and audience was declared an average grosser by completing 25 days.
Similar/ Related Movies
[
Top ⇑
]
a 2008 movie by D Rajendra Babu
Actors & Actresses: Puneeth Rajkumar, Hansika Motwani, Nassar
Romance, Drama
a 2008 movie by Prakash
Actors & Actresses: Puneeth Rajkumar, Lakshmi, Nikita Thukral
Drama, Crime
a 2000 movie by D Rajendra Babu
Actors & Actresses: Shivarajkumar, Upendra, Sonali Bendre
Romance, Drama
a 2008 movie by Ravi Srivathsa
Actors & Actresses: Shivarajkumar, Ravi Belagere, Ravi Kale
Drama, Action
a 2008 movie by Thushar Ranganath
Actors & Actresses: Prajwal Devaraj, Bianca Desai, Sonu Gowda
Romance, Drama
a 2009 movie by Yogaraj Bhat
Actors & Actresses: Diganth, Aindrita Ray, Neethu
Romance, Drama
a 2009 movie by Yogish Hunasur
Actors & Actresses: Yogesh, Sanchita Padukone, Santhosh
Romance, Drama
a 2010 movie by M D Sridhar
Actors & Actresses: Darshan Thoogudeep, Pranitha Subhash, Devaraj
Romance, Mystery, Drama
2011 movie by Nagashekhar
Actors & Actresses: Srinagar Kitty, Ramya, Doddanna
Romance, Drama
a 2011 movie by Yogaraj Bhat
Actors & Actresses: Puneeth Rajkumar, Aindrita Ray, Deepa Sannidhi
Romance, Philosophical, Drama