► Watch Movie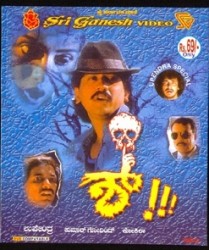 Shhh!
(ಶ್)
28th August 1993- Drama, Mystery, Thriller
Series of murders at an estate brings everyone into chaos.
..
Movie Cast
[
Top ⇑
]
Movie Details
[
Top ⇑
]
Movie Name
Shhh!
Original Language Name
ಶ್
Alternative Names
Shhh ,
Year
1993
Release Date
28th August 1993
Languages
Kannada
Storyline
Series of murders at an estate brings everyone into chaos.
Story Summary
The movie opens with a young boy who comes out of his house to relieve himself in the middle of the night. In the meantime, he hears some leaves rustling in the distance, and as he looks up to see what it is, his face suddenly bears an expression of horror and he screams at the top of his lungs.

A few days later, a shooting crew being led by the veteran Kannada actor Kashinath are on their way to start filming their newly approved film. They have selected an estate called as 'onti mane estate', which is also a dreaded and much feared place in the vicinity. As they try to find their way to the estate, they encounter a series of comical mishaps that aggravates Kashinath. Much to his surprise, the heroine of his shooting crew also tries to swoon on Kashinath, however, he later realizes that she was actually trying to exact as much mileage as she can out of her role. Nevertheless, they soon reach onti mane estate and meet the owner Mr. Nagaraj Rao and his family. However, Nagraj Rao's daughter Bharathi keeps them in suspense as she manages to pull a series of hilarious pranks on Kashinath and the hero of the movie Kumar (Kumar Govind). Nevertheless, Kashinath and Kumar Govind soon confront Bharathi to teach her a lesson, but Bharathi herself pulls a prank on them much to Kashinath's embarrassment. Kumar Govind is instantly attracted to Bharathi due to her outgoing and charming personality and falls in love with her.

Meanwhile, as the shooting progresses, strange events start taking place at onti mane estate. A hooded figure is spotted leaving Nagaraj Rao's house. Kumar Govind tries to follow it clandestinely, only to have his attempt thwarted by Nagaraj Rao's wife's brother. Dejected, Kumar Govind returns to his room, but Nagaraj Rao's brother is kidnapped by what appears to be a demon. The demon carries him on his back and whisks him away to the now dilapidated house that sits atop of onti mane estate.

Frightened by his sudden disappearance, Nagaraj Rao's wife lodges a complaint with the police. Police Sub Inspector S.I Kalappa (Bank Janardhan) and his perennially drowsy constable (Vaijanath Biradar) take charge of the investigation. A few days later, it is revealed that it is in fact Nagaraj Rao's wife, who was the hooded figure shown earlier, and it was her brother who was looking out for her as she continued her affair with a local sanyasi Dayananda Swamiji (Mimicry Dayanand). The same night, as she steps out of the house to meet her lover, she is trailed by the demon. The sanyasi and Nagraj Rao's wife make love, and as the sanyasi steps out of the house, the demon attacks him, knocks him out and kidnaps Nagaraj Rao's wife, and then whisks her away to the dilapidated house, the same way it had done with her brother.

Upon learning that his family members are disappearing one by one, Nagraj Rao is distraught. However, to Kashinath's and Kumar Govind's surprise, his son and daughter appear least bothered with these developments. Nevertheless, with the investigation going nowhere Upendra does a special appearance as a top police officer and accuses Kashinath of being the person who is responsible for everything. However, it is later revealed that Upendra tried to impress Kashinath into giving him an opportunity in act in his films.

Meanwhile, the police superintendent (Suresh Heblikar) takes S.I Kalappa to task for his shoddy investigation and issues a stern warning to him, and orders him to intensify his investigation. Tragedy strikes the shooting crew when the assistant director is brutally murdered, and the devil's play intensifies with all sorts of supernatural occurrences portending that the estate is indeed haunted by a vicious demon. As Kumar Govind and Kashinath try to demystify the cause behind the deaths, they are confronted with another conundrum. They find holes and trenches dug in sporadic parts of the estate, and they are left confounded as to who could be doing all this.

As the days pass, tragedy strikes Nagaraj Rao's family again when his son is brutally murdered. Kashinath finds an important artifact which he believes holds the clue to solve this murder mystery. However, Kashinath is thrown into a tizzy when he finds the same artifact with Kumar Govind, and the specter of doubt soon looms large on Kumar's involvement with the murders. One night, Kumar escorts Bharathi into the forest in the middle of the night and abandons her. Just as he leaves, the demon attacks her. Hearing her cries for help, Kumar jumps in and fights the demon. After a grueling fight, the demon escapes upon seeing Kashinath and his crew. Soon, Kumar is revealed to be innocent. However, when Kashinath asks Kumar about the golden artefact around his neck, Kumar tells him that it was handed to him by Bharathi, who had in turn received it from her father. Kashinath realizes that Nagaraj Rao is the one behind all this, and they rush to his house, only to find him hanging from the ceiling.

What is the golden artifact? Why did Nagaraj Rao hang himself? Who is the demon? forms the rest of the story.
Run Time
130 Mins
Movie Crew
[
Top ⇑
]
Interesting Facts and Trivia
[
Top ⇑
]
This film went on to be a major commercial success. It created a new trend of Suspense thriller movies in Kannada cinema. It established Upendra as a well known director.
The film was summarily praised by critics and fans. Upendra as a director was hailed for his ability to maintain the suspense element of the movie till the end. It also became a benchmark movie for Sadhu Kokila who is now a very well acclaimed and respected musician and actor. The music was very well received and the songs "Avanalli Ivalilli" and "Dava Dava" are hummed to this day.
Similar/ Related Movies
[
Top ⇑
]
a 1998 movie by Upendra
Actors & Actresses: Upendra, Chandini, Marina
Thriller, Philosophical, Drama
1995 movie by Upendra
Actors & Actresses: Ambareesh, Harsha Darbar, S V Rajendra Singh Babu
Thriller, Drama, Crime
1990 movie by Sukumar Pervodi
Actors & Actresses: Kashinath, Amrutha, Thara
Drama
a 1991 movie by Kashinath
Actors & Actresses: Kashinath, Anjana, Srirekha
Drama, Comedy
1991 movie by B Ramamurthy
Actors & Actresses: Srikanth, Vinod Raj, Sivaranjani
Drama, Comedy
a 1991 movie by B Ramamurthy
Actors & Actresses: Devaraj, Thara, Ashok
Mystery, Drama
1993 movie by Nagathihalli Chandrashekhar
Actors & Actresses: K Shivaram, Nandini Singh, Sundar Raj
Thriller, Mystery, Drama
a 1994 movie by K G Prasad
Actors & Actresses: Ramesh Aravind, Panchami, Satyajit
Thriller, Mystery
a 1997 movie by A N Jayaramaiah
Actors & Actresses: Vajramuni, Girish Karnad, Ambareesh
Drama, Crime, Comedy
a 2012 movie by Kumar
Actors & Actresses: Krishnamurthy Budal, Rani, Bank Janardhan
Thriller, Drama