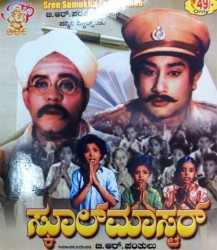 School Master
(ಸ್ಕೂಲ್ ಮಾಸ್ಟರ್)
1958- Drama, Family
A school master who was dearly loved by students when he was a teacher is now broke
..
Movie Cast
[
Top ⇑
]
Movie Details
[
Top ⇑
]
Movie Name
School Master
Original Language Name
ಸ್ಕೂಲ್ ಮಾಸ್ಟರ್
Year
1958
Release Date
1958
Languages
Kannada
Storyline
A school master who was dearly loved by students when he was a teacher is now broke
Story Summary
As a good teacher and person he is loved by most, he struggles in school to fight for the benefit of students. He slowly wins the faith of students, he shows them the value of forgiving by forgiving a student who has stolen his pen. He gifts the student his pen.

After his struggling life as a school teacher he is retired and because of his daughter's wedding, sons' education and his generosity he is in debt. He is forced to sell his house. The student who had stolen his pen is now a police officer, he comes to the rescue and helps his old school teacher.
Run Time
164 Mins
Movie Crew
[
Top ⇑
]
Songs
[
Top ⇑
]
Interesting Facts and Trivia
[
Top ⇑
]
Best Kannada film award for the year 1958
Third Best Film in the National film awards of 1958
This movie is an adoption of the novel Vaishnavi by Kusumaraj, famous Marathi writer. Variation of this story can be found in every other language.
Similar/ Related Movies
[
Top ⇑
]
1957 movie by B R Panthulu
Actors & Actresses: B R Panthulu, M V Rajamma, Dikki Madhava Rao
Drama, Action
1960 movie by B R Panthulu
Actors & Actresses: B R Panthulu, M V Rajamma, Dikki Madhava Rao
Kids, Family, Comedy
a 1962 movie by B R Panthulu
Actors & Actresses: Dr Rajkumar, Kalyan Kumar, M V Rajamma
Family, Drama
a 1963 movie by B R Panthulu
Actors & Actresses: Dr Rajkumar, Raja shankar, T R Narasimha Raju
Family, Drama, Comedy
1964 movie by B R Panthulu
Actors & Actresses: M V Rajamma, B R Panthulu, Kalyan Kumar
Family, Drama