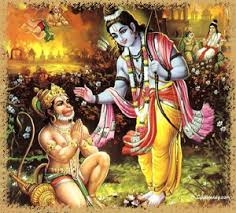 Ram Maruthi Yuddh
(राम मारुथी युद्ध)
1923- Action, Drama, Religious, Silent, War, White and Black, Mythology
Portrays the conflict and the battle between Maryada Purushottam Lord Rama and his staunch devotee Maruthi(Hanuman)
..
Movie Cast
[
Top ⇑
]
Movie Details
[
Top ⇑
]
Movie Name
Ram Maruthi Yuddh
Original Language Name
राम मारुथी युद्ध
English Translation
The battle between Lord Raam and his devotee Maruthi
Year
1923
Release Date
1923
Languages
Hindi
Storyline
Portrays the conflict and the battle between Maryada Purushottam Lord Rama and his staunch devotee Maruthi(Hanuman)
Story Summary
Lord Rama was seated on his throne in the assembly in the presence of DevRishi Narad, Rishi Vishwamitra, Guru Vashishta along with many other sages. There arose a topic for debate as to whether which/who is more powerful; Lord Ram or His name. DevRishi Narad, with conviction said that Raam nama(Rama's name) was more potent than Lord Rama Himself.

After the court being dispersed, DevRishi Narad went upto Hanuman and said when everyone leaves from the court, you pay your obeisance to everyone except Rishi Vishwamitra. Rishi Vishwamitra, was pained at the incident but let it suffice. DevRishi Narad went upto Rishi Vishwamitra and reminded him of the way Hanuman treated him. Rishi Vishwamitra, then asks His pupil, Lord Rama to punish Hanuman. Lord Rama issued a death penalty against Hanuman.

Hanuman became much grieved at this and he asked DevRishi Narad for advice. DevRishi Narad advised him to get up early in the morning, take a dip in the Sarayu river; chant 'Shri Raam Jay Raam Jay Jay Raam' standing on the banks of the river. Lord Rama then saw Hanuman along the banks and started shooting arrows at him. Hanuman, with his heart full of devotion, chanted 'Shri Raam Jay Raam Jay Jay Raam' and the arrows of Lord Rama didn't do any harm to Hanuman.

Lord Rama then aimed Brahmastra at Hanuman. DevRishi Narad then told how powerful Raam nama is than Lord Rama Himself to Rishi Vishwamitra. DevRishi Narad requested Rishi Vishwamitra and asked him to order Lord Rama to stop the battle. Rishi Vishwamitra asked Lord Rama to stop and Lord Rama stopped the battle.
Similar/ Related Movies
[
Top ⇑
]
1913 movie by Dadasaheb Phalke
Actors & Actresses: D D Dabke, G.V. Sane, Anna Salunke
Mythology, White and Black, Silent
1926 movie by Dadasaheb Phalke
Actors & Actresses: Bhaurao Datar, B. Pawar, Gangaram Nhavi
White and Black, Silent, Religious
1924 movie by Dadasaheb Phalke
Mythology, White and Black, Silent
1926 movie by Dadasaheb Phalke
Mythology, White and Black, War
a 1928 movie by Sheikh Fattelal, Vishnupant Govind Damle
Actors & Actresses: Keshavrao Dhaiber, Kamaladevi, Ravji Mhaskar
Mythology, White and Black, War