► Watch Movie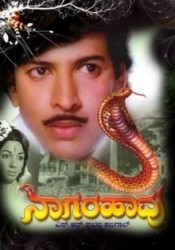 Naagarahaavu
(ನಾಗರಹಾವು)
29th December 1972- Drama
The story revolves around a short tempered, yet affable college student Ramachari. Ramachari is unpopular in the whole town of Chitradurga as an ill-tempered boy and is disliked by many people in his college.
..
Movie Cast
[
Top ⇑
]
Movie Details
[
Top ⇑
]
Movie Name
Naagarahaavu
Original Language Name
ನಾಗರಹಾವು
Alternative Names
Nagarahaavu ,
English Translation
Cobra
Year
1972
Release Date
29th December 1972
Languages
Kannada
Storyline
The story revolves around a short tempered, yet affable college student Ramachari. Ramachari is unpopular in the whole town of Chitradurga as an ill-tempered boy and is disliked by many people in his college.
Story Summary
The story begins with Ramachari being caught in a classroom while trying to copy in an examination. The college principal (Loknath) suspends him for copying in the exam. Ramachari is humiliated and angry at this action and later at night Ramachari throws stones at the principal's house and when the principal wakes up and comes out of his house, Ramachari ties the half-naked principal to a pole and runs away satisfied.

Then the plot focuses on Ramachari's home. Ramachari is brought up in a pious and religious Brahmin environment by his parents Madhwacharya and Sonabai. His father doesn't like him because he is unpopular in the whole town as a ruffian.

His mother is worried about his future. One person who truly (seems to) understand Ramachari is his primary school teacher, Chamayya (K.S.Ashwath) master. Ramachari finds the company of his primary school teacher Chamayya and his wife Tunga (Leelavathi), more interesting than that of his parents and considers them as his parents. Ramachari has very great regards for his Chamayya master even though he is no longer his academic teacher and would do whatever his teacher would say without thinking.

The next part of the story is about the two women Alamelu (Aarathi) and Margaret (Shubha) who come into Ramachari's life and how the teacher Chamayya influences Ramachari's decisions in these relationships. The teacher tries to bring Ramachari in the "conventional way of life", but he errs and Ramachari's life is destroyed.

Ambareesh) who keeps stalking her. Varada wants to put an end to this eve-teasing but he is a timid, pusillanimous person. He asks Ramachari for help. Ramachari agrees based on the condition that he should marry Alamelu. Ramachari is tempted and he fixes Jaleela and drives him away out of Alamelu's life. Alamelu and Ramachari fall in love.

At this point, when Alamelu and Ramachari are truly in love, Alamelu's marriage is fixed with a boy of her caste. When Alamelu tries to refuse the proposal by saying she is in love with Ramachari and asks for Varada's support, Varada says that he never gave Ramachari any promise and deceives Ramachari.

At this point, the teacher Chamayya intervenes in Ramachari's life and says to give up hope on Albelu. He convinces Ramachari by making him understand that sacrifice is a greater act than selfish love.

Ramachari, confused, agrees to his teacher and sacrifices his love.

Years later, Ramachari meets her in a five star hotel as a prostitute. Alamelu's husband sold her into flesh trade and she had turned into a prostitute.

The second lady in Ramachari's life is Margaret, a peppy Christian girl who has moved into the town who has young men like Tukaram (Dheerendra Gopal) swaying to her tunes. Ramachari kisses Margaret on an ego tussle between the two and they soon fall in love. However due to the intense pressure in the society which denounces the marriage between a Brahmin boy and a Christian girl, they decide to run away.


Once again the teacher Chamayya tries to stop Ramachari and says that by sacrificing his love to Margaret, he will be holding his religion and tradition before love. But this time, Ramachari confronts his teacher and says that he won't budge because the last time he sacrificed his love for Alamelu, it went horribly wrong and Alamelu was a high society prostitute. Chamayya master, accused now of ruining Alamelu's life, realizes (perhaps for the first time) that Ramachari was right and he was wrong.

The movie ends with Chamayya master falling to his death from the hill when Ramachari pushes him in a fit of rage when his master tells "if you want to marry her, you have to witness my death before it" . He will not have any motive to kill his master,but it shows his respect for his master since he don't want to hear about his master's death. Ramachari, shocked by this incident asks Margaret to join him in a bid to accompany his beloved teacher in death, to which she happily agrees. They both commit suicide by jumping off a cliff.

Ramachari, the hero is compared to a King Cobra. Dangerous, yet respected but a misfit in the society.
Run Time
171 Mins
Movie Crew
[
Top ⇑
]
Interesting Facts and Trivia
[
Top ⇑
]
Based on the 3 Novels: Nagarahavu, Ondu Gandu Eradu Hennu, Sarpa Mathsara by Tha Ra Su
First Indian movie to use slow motion cameras
This movie was remade in Hindi titled as Zehreela Insaan, directed by Puttanna Kanagal himself.
The movie celebrated 100 days in 3 theaters in Bangalore alone
This movie was remade into Telugu titled Kode Nagu starring Sobhan Babu, Chandrakala and Lakshmi, directed by K.S. Prakasha Rao. It was a big hit in Telugu.
The film was remade in Tamil as Raaja Naagam with Sreekanth playing the lead role.
Similar/ Related Movies
[
Top ⇑
]
a 1971 movie by Peketi Shivaram
Actors & Actresses: Dr Rajkumar, Jayanthi, Bharathi Vishnuvardhan
Family, Drama
a 1970 movie by S R Puttanna Kanagal
Actors & Actresses: Kalpana, Gangadhar, K S Ashwath
Drama
a 1972 movie by Y R Swamy
Actors & Actresses: Dr Rajkumar, Ramesh, B V Radha
Drama
a 1974 movie by S R Puttanna Kanagal
Actors & Actresses: Aarathi, M Leelavathi, Adavani Lakshmidevi
Musical, Drama, Action
1975 movie by S R Puttanna Kanagal
Actors & Actresses: Aarathi, Srinath, S Shivaram
Drama
a 1971 movie by N Lakshmi Narayan
Actors & Actresses: Kalpana, M S Rajashekhar, Uday kumar
Drama
1971 movie by K S L Swamy (Ravi)
Actors & Actresses: Kalpana, B V Radha, Gangadhar
Drama
a 1975 movie by S R Puttanna Kanagal
Actors & Actresses: Aarathi, Margaret Thompson, Anilkumar
Drama
1976 movie by S R Puttanna Kanagal
Actors & Actresses: G K Govinda Rao, C H Lokanath, Manjula Rao
Drama
a 1978 movie by A V Sheshagiri Rao
Actors & Actresses: Srinath, Aarathi, Vishnuvardhan
Romance, Drama