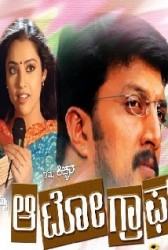 My Autograph
(ಮೈ ಆಟೋಗ್ರಾಫ್)
14th February 2006- Drama, Romance
Shankar , working in an advertising agency who comes to his village to invite his friends to his marriage. He remembers the good old days and also sees how his friends are faring now
..
Movie Cast
[
Top ⇑
]
Movie Details
[
Top ⇑
]
Movie Name
My Autograph
Original Language Name
ಮೈ ಆಟೋಗ್ರಾಫ್
Year
2006
Release Date
14th February 2006
Languages
Kannada
Storyline
Shankar , working in an advertising agency who comes to his village to invite his friends to his marriage. He remembers the good old days and also sees how his friends are faring now
Story Summary
The movie begins with Shankar (Sudeep) , who runs an advertising agency, boarding a train to visit his native village to invite all his friends for his wedding.The journey to his childhood days begins there. The happenings in the school, his tussle with his friends and his first love with his classmate, Kamala (Deepu), are all pictured realistically. Shankar reaches the village and invites all including Kamala, who promises to come to the wedding, with her husband and three children.Then, he goes to Kerala where he had his college education. His major crush at that time was Lathika (Sreedevika), a Malayalee girl, with whom he falls in love but later the affair proves to be short- lived as her parents marry her off to her cousin, Madhavan. On reaching Kerala to invite her, Shankar is shattered to see his lover as a widow. Meanwhile, he is dejected at the failure of his love affair then and he comes across a trusted friend Divya (Meena), who instils confidence, unearths his hidden talents and teaches him the lesson that one has to go ahead in life without looking back. However, she does not reveal the tragedy that occurred in her past.

But as time passes by, she reveals that her mother is a paralytic patient and that she now has to work for survival. While she and Shankar travel on a bus, she reveals that she was in love with someone and believed that he was a good man but got cheated. A poetic narration on the need for a good friend has been stressed. Towards the end, Shankar gets married to a girl of his parents choice, Rashmi (Rashmi Kulkarni), and all the three girls, who had played a part in his life, and many college friends attend the wedding. Also he sets a very nice ending to the main story.
Run Time
168 Mins
Movie Crew
[
Top ⇑
]
| | |
| --- | --- |
| Writer (story) | Cheran |
| Writer (Screenplay) | Cheran |
| Music Director | Bharadhwaj |
| Producer | Sudeep |
| Cinematography | Sri Venkat |
| Writer (Lyrics) | K Kalyan |
| Writer (Dialogue) | B A Madhu |
| Film Editing | Jo Ni Harsha |
| Assistant Director | N Sathish, Srinivas |
| Art Director | Shivaraj |
| Choreography | Shivashankar, Krishna Reddy |
| Makeup | Basavaraj Samshi |
| Playback Singer | Hariharan, K S Chithra, Chetan Sosca, Rajesh Krishnan, Rashmi, Srividya |
| Production Manager | V K Murthy |
| Costume | Pashupathi |
| Stills | Digital Srinath |
| Publicity Design | Kumar |
| Co-Director | Suresh Raj |
| Production (Banner) | Kiccha Creations |
| Stunts | Different Danny |
| Sound Recording (Songs) | Murali |
| Sound Recording (Dialogues) | V N Hema |
| Sound Recording (Rerecording) | V N Hema |
| Public Relations | D V Sudheendra, Venkatesh |
| Dubbing Artist | B T Manjunath, Rajesh Krishnan, Sunethra, Shivamurthy |
| sound effects editor | V Rajan |
| DTS | G V Arunkumar |
Interesting Facts and Trivia
[
Top ⇑
]
This film got good response from critics, it completed 175 days and it is declared as superhit.
This film is a remake of superhit Tamil film Autograph which starred Cheran and Sneha in lead roles.
Similar/ Related Movies
[
Top ⇑
]
2003 movie by D Rajendra Babu
Actors & Actresses: Sudeep, Meena, Kishan Shrikanth
Drama
2007 movie by Sudeep
Actors & Actresses: Sudeep, Master Hirannaiah, Srinivasamurthy
Musical, Family, Drama
a 2004 movie by Yogaraj Bhat
Actors & Actresses: Sudeep, Ramya, Umashree
Drama
a 2000 movie by Sunil Kumar Desai
Actors & Actresses: Sudeep, Sparsha Rekha, Sudha Rani
Thriller, Drama
a 2003 movie by N Omprakash Rao
Actors & Actresses: Sudeep, Hardeep, Dr Vijay
Romance, Drama
a 2005 movie by Om Saiprakash
Actors & Actresses: Sudeep, Nikita Thukral, Ashok
Romance, Drama
a 2005 movie by Arun Prasad
Actors & Actresses: Sudeep, Srinath, Kanika Venkatasubramaniam
Drama, Action
a 2006 movie by S Nandakumar
Actors & Actresses: Anirudh, Radhika Kumaraswamy, Akshaya Krishna
Romance, Drama, Comedy
a 2008 movie by P N Sathya
Actors & Actresses: Sudeep, Mamta Mohandas, Kishore
Romance, Drama, Action
a 2009 movie by Sudeep
Actors & Actresses: Sudeep, Ragini Dwivedi, Gopinath Bhat
Drama, Action