► Watch Movie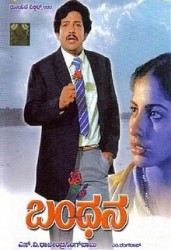 Bandhana
(ಬಂಧನ)
26th July 1984- Drama
A doctor falls in love with his student
..
Movie Cast
[
Top ⇑
]
Movie Details
[
Top ⇑
]
| | |
| --- | --- |
| Movie Name | Bandhana |
| Original Language Name | ಬಂಧನ |
| English Translation | Bondage |
| Year | 1984 |
| Release Date | 26th July 1984 |
| Languages | Kannada |
| Storyline | A doctor falls in love with his student |
| Story Summary | The story is about a doctor, Harish (Vishnuvardhan), who falls in love with his student Nandini (Suhasini). Harish tries to express his feelings to her but fails to do so. When he finally musters courage to tell her that he loves her, she tells him that her marriage is fixed to a character played by Jai Jagadish, her childhood friend and sees the former like a guru. Harish, unable to forget her and slowly withdraws into a shell. His mother tries to get him out of this shell but dies from burns. Meanwhile, Jai Jagadeesh starts suspecting his wife because she gives importance to hospital and not him and starts misbehaving with her at home. Nandini discovers that Harish has heart enlargement and may not survive for long. Since he has no family, she starts taking more care of him in the hospital. This frustrates her husband even more and he misunderstands Harish and fights with him in the hospital. Nandini goes to her residence to explain to her husband but discovers that her husband has abused a lady who was staying in their house (maid). She decides to leave him but Harish tries to convince her husband that his relationship with Nandini is pure and that he has misunderstood them. Jai Jagadeesh misbehaves with him again leaving his wife hurt while trying to make sense with her husband. Finally, Harish saves Nandini's baby but dies. Nandini divorces her husband and moves on with her just born child. |
| Run Time | 152 Mins |
Movie Crew
[
Top ⇑
]
Interesting Facts and Trivia
[
Top ⇑
]
The movie ran for 25 weeks in many theatres.
Similar/ Related Movies
[
Top ⇑
]
1990 movie by S V Rajendra Singh Babu
Actors & Actresses: Vishnuvardhan, Suhasini Maniratnam, K S Ashwath
War, Drama
a 1995 movie by S V Rajendra Singh Babu
Actors & Actresses: Vishnuvardhan, Suhasini Maniratnam, Jayaprada
Drama
1986 movie by H R Bhargava
Actors & Actresses: Vishnuvardhan, Kim, Bhavya
Drama
1988 movie by Rajachandra
Actors & Actresses: Ambareesh, Ananth Nag, V Ravichandran
Drama, Crime, Action
a 1986 movie by H R Bhargava
Actors & Actresses: Vishnuvardhan, Sumalatha, K S Ashwath
Drama
a 1978 movie by Geethapriya
Actors & Actresses: Vishnuvardhan, Aarathi, S Shivaram
Family, Drama
1985 movie by B S Dwarakish
Actors & Actresses: Vishnuvardhan, Bhavya, C R Simha
Family, Drama
1986 movie by H R Bhargava
Actors & Actresses: Ananth Nag, Bharathi Vishnuvardhan, Jai jagadish
Family, Drama
a 1987 movie by H R Bhargava
Actors & Actresses: Ananth Nag, Saritha, Charanraj
Political, Drama
a 1990 movie by S V Rajendra Singh Babu
Actors & Actresses: V Ravichandran, Amala, Bharathi Vishnuvardhan
Musical, Drama