► Watch Movie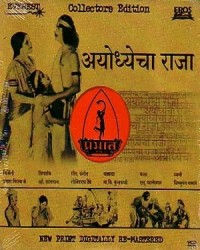 Ayodhyecha Raja
(अयोध्या का राजा)
1932- Historical, Religious, White and Black
Ayodhyecha Raja was the first Marathi talkie released in 1932, directed by Shantaram Rajaram Vankudre (V. Shantaram)
..
Movie Cast
[
Top ⇑
]
Movie Details
[
Top ⇑
]
| | |
| --- | --- |
| Movie Name | Ayodhyecha Raja |
| Original Language Name | अयोध्या का राजा |
| English Translation | King of Ayodha |
| Year | 1932 |
| Release Date | 1932 |
| Languages | Hindi, Marathi |
| Storyline | Ayodhyecha Raja was the first Marathi talkie released in 1932, directed by Shantaram Rajaram Vankudre (V. Shantaram) |
| Story Summary | When Bhagwan Shri Narad Muni informs the inhabitants of Swarglok about Raja Harishchandra's compassion and generosity, Sage Vishwamitra decides to verify this for himself and travels to meet the Raja. Once there, he demands the Raja's kingdom, and after receiving it, asks one of his disciples to be the new Raja. Not satisfied, he asks Harishchandra, his wife, Taramati, and son, Rohidas, to take off all their ornaments and royal clothing, go into exile, as well as labor, earn a thousand gold coins in two months, and remit this to him as his Dakshina. Harishchandra agrees, and re-locates to Kashi where his entire family work to collect wood for a cemetery, and then are hired by Mahajan Ganganath. At the end of two months, all they accumulate is a mere 10 gold coins. It is then Harishchandra decides to sell himself in the slave market - a decision that will alter their lives forever. |
| Run Time | 146 Mins |
Movie Crew
[
Top ⇑
]
Songs
[
Top ⇑
]
Interesting Facts and Trivia
[
Top ⇑
]
The film was also made as a double-version, Ayodhya Ka Raja (1932) in Hindi, making it the first double version talkie of Indian cinema, wherein Munshi Ismail Farooque wrote the Hindi dialogue, while screenwriter, N.V. Kulkarni also did Marathi dialogue.
After the 2003 fire at the National Archives of India, Pune in which prints of first Indian talkie Alam Ara (1931) were lost, it is also the earliest surviving talkie of Indian cinema
The film was not just Prabhat Film Company's first talkie film, but also for its director, V. Shantaram. In its time, it was a leap not just in sound, song and dialogue quality and became a hit.
India's first full length feature film, Raja Harishchandra (1913) was also made on the same storyline.
Similar/ Related Movies
[
Top ⇑
]
1932 movie by V. Shantaram
Actors & Actresses: Govindrao Tembe, Durga Khote, Master Vinayak
Mythology, White and Black, Religious
a 1933 movie by Rajaram Vankudre Shantaram
Actors & Actresses: Master Vinayak, Shakuntala Paranjpye, Leela
Mythology, White and Black
1923 movie by Dadasaheb Phalke
White and Black, Religious, Philosophical
a 1930 movie by Priyanath N. Ganguly
Actors & Actresses: Seeta Devi, Patience Cooper, Dhiraj Bhattacharya
White and Black, Silent, Religious
a 1930 movie by Rajaram Vankudre Shantaram, Keshavrao Dhaiber
Actors & Actresses: Rajaram Vankudre Shantaram, Kamaladevi, Baburao Pendharkar
White and Black, Silent, Historical