► Watch Movie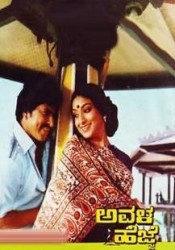 Avala Hejje
(ಅವಳ ಹೆಜ್ಜೆ)
24th February 1981- Crime, Drama, Mystery, Thriller
A disappointed lover seeks his ex-girlfriend and tries to molest her, she accidentally fires a bullet at him and believes him to be dead, but her nightmare begins when she finds out he is alive
..
Movie Cast
[
Top ⇑
]
Movie Details
[
Top ⇑
]
| | |
| --- | --- |
| Movie Name | Avala Hejje |
| Original Language Name | ಅವಳ ಹೆಜ್ಜೆ |
| English Translation | her Footsteps |
| Year | 1981 |
| Release Date | 24th February 1981 |
| Languages | Kannada |
| Storyline | A disappointed lover seeks his ex-girlfriend and tries to molest her, she accidentally fires a bullet at him and believes him to be dead, but her nightmare begins when she finds out he is alive |
| Story Summary | The film begins with Ambareesh chasing Lakshmi trying to molest her. Flashback shows that Lakshmi was Ambareesh's love interest before her marriage to Vishnuvardhan. Lakshmi is now happily married to Vishnuvardhan who is a neurosurgeon. In the absence of Vishnuvardhan, Ambareesh visits Lakshmi to threaten her. One day Lakshmi unintentionally fires the bullet from her husband's revolver to Ambareesh's forehead and he becomes unconscious. With the help of Dwarakish, Vishnuvardhan's assistant in Hospital, Lakshmi takes Ambareesh's body out of city and drops it from a bridge, thinking he has died. Without knowing all these incidents, Vishnuvardhan returns to home and find one of the bullets missing in the revolver, but will be clarified by Lakshmi's arguments. Unknowingly Ambareesh is admitted to Vishnu's hospital and he forgets all his past. Doctor Vishnu treats him and is determined to cure him. When Ambareesh recalls his past, he sees Vishnu, who will be his brother, who he lost in his childhood and recalls everything. The rest of the story is about how Vishnu and Ambareesh confront each other and solve the problems. |
| Run Time | 121 Mins |
Movie Crew
[
Top ⇑
]
Interesting Facts and Trivia
[
Top ⇑
]
This film is partially inspired by Hindi film Trishna starring Sanjeev Kumar, Rakhee Gulzar and Shashi Kapoor.
Similar/ Related Movies
[
Top ⇑
]
1981 movie by H R Bhargava
Actors & Actresses: Vishnuvardhan, Manjula, Jayamalini
Musical, Comedy, Action
a 1977 movie by H R Bhargava
Actors & Actresses: Lakshmi, Dr Rajkumar, T N Balakrishna
Romance, Mystery, Drama
a 1978 movie by S V Rajendra Singh Babu
Actors & Actresses: Lakshmi, Srinath, Vishnuvardhan
Drama, Crime, Action
a 1980 movie by H R Bhargava
Actors & Actresses: B S Dwarakish, Jayachithra, T N Balakrishna
Comedy, Action
a 1980 movie by H R Bhargava
Actors & Actresses: B S Dwarakish, Srinath, Padmapriya
Kids, Family, Drama
1980 movie by M P Shankar, K S L Swamy (Ravi)
Actors & Actresses: M P Shankar, Ashok, Manjula
Family, Drama, Adventure
a 1982 movie by H R Bhargava
Actors & Actresses: B S Dwarakish, Aarathi, Sundar Krishna Urs
Family, Comedy, Action
a 1982 movie by H R Bhargava
Actors & Actresses: Ambareesh, Srinath, Lakshmi
Romance, Crime, Action
1985 movie by H R Bhargava
Actors & Actresses: Vishnuvardhan, Radhika Sarathkumar, Vijayakashi
Drama
a 1990 movie by H R Bhargava
Actors & Actresses: Vishnuvardhan, Shobana, Ramesh Bhat
Drama, Action