► Watch Movie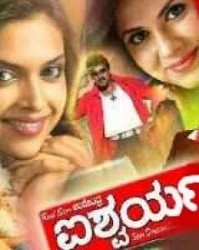 Aishwarya
(ಐಶ್ವರ್ಯ)
4th September 2006- Drama
Woman-hater Abhi (Upendra), an adman, is furious when a brilliant executive Aishwarya (Deepika) joins his firm. He steals her ideas, humiliates her at every single opportunity and makes her life miserable. Aishwarya fights back and it is Abhi who finds the table turned against him. But not before she gets to know the reason behind his behaviour. They are then sent abroad and predictably, they patch up. Abhi begins to give his heart away but there's a problem – Aishwarya is engaged
..
Movie Cast
[
Top ⇑
]
Movie Details
[
Top ⇑
]
| | |
| --- | --- |
| Movie Name | Aishwarya |
| Original Language Name | ಐಶ್ವರ್ಯ |
| Year | 2006 |
| Release Date | 4th September 2006 |
| Languages | Kannada |
| Storyline | Woman-hater Abhi (Upendra), an adman, is furious when a brilliant executive Aishwarya (Deepika) joins his firm. He steals her ideas, humiliates her at every single opportunity and makes her life miserable. Aishwarya fights back and it is Abhi who finds the table turned against him. But not before she gets to know the reason behind his behaviour. They are then sent abroad and predictably, they patch up. Abhi begins to give his heart away but there's a problem – Aishwarya is engaged |
| Story Summary | Abhishek Hegde (Upendra) had first fallen in love with a young lady Anjali (Daisy Bopanna) who was a model. As a struggling model, Anjali finds herself in a fortunate position where she is mistaken to be girlfriend to Abhishek and gets many new offers. Abhishek tries to confront her on seeing the news about his affair with her, but falls in love with her instead. Anjali dies in an accident when the two declare their love and are hugging, Abhishek's car hits a lorry. As Anjali's family were not in favour of her decision of marrying Abhishek, he is informed that Anjali has married the person she has been engaged to and did not care to tell him that Anjali has actually died and visit him, even when he was in hospital recovering from injuries after the accident. Abhishek's grandfather had faked an invitation card to Anjali's wedding only to keep him away from further mental trauma. This angers Abhishek and he starts to hate women with the generalisation that all women are like Anjali. After a long gap Aishwarya (Deepika Padukone) joins the company he works in which is owned by his uncle as an assistant manager. After a stay for a few days in the office, she gets Abhishek fired and she takes the position of manager. Abhishek now not knowing what to do talks to his aunt, but is interrupted by his uncle, who is mean to him. Finally, he takes the job of assistant manager as that is the only job available. Within a few days they assigned a task at Vienna. The two travel to Europe on business for ten days and learn from each other. Aishwarya transforms Abhishek by her assertive and fun-loving nature. They fall in love with each other but don't express it. Abhishek finds out that Aishwarya is getting engaged as decided by her family to a very strict family from Mandya. Aishwarya is aware of Abhishek's feelings for her. Both of them finally speak out their love. Now, Abhishek, to save his love, drives to reach Aishwarya. At that moment, Aishwarya will be on a boat travelling to the place where she has to get marry. Abhishek reaches there and shouts out for Aishwarya, and she responds by jumping into the river. They both reunite and share their moment of joy by telling how much they love each other. The movie ends on a happy note and they are married by the end. |
| Run Time | 135 Mins |
Movie Crew
[
Top ⇑
]
| | |
| --- | --- |
| Music Director | Rajesh Ramanath |
| Producer | N Kumar, Dr Ramanjaneyalu Dasari |
| Cinematography | Krishna kumar |
| Writer (Lyrics) | K Kalyan, V Nagendra Prasad, Upendra |
| Writer (Dialogue) | B A Madhu |
| Film Editing | Vinod Manohar |
| Assistant Director | Mandya Raju, Chinthamani Manju, M Sanath Prakash |
| Art Director | Hosamane Murthy |
| Choreography | Murali, A Harsha, Anthony Pradeep, Nagesh |
| Makeup | Siddhesh(Upendra), Mani |
| Playback Singer | Upendra, Karthik, Anusha Mani, Kunal Ganjawala |
| Production Manager | Vijaykumar, Vasanth Rajur, Ramu, K S Champakadhama Babu |
| Costume | Gandasi Nagaraj |
| Stills | Gundlupete Suresh |
| Publicity Design | Mani |
| Co-Director | K N Manju |
| Director (Associate) | Purushottham, Kolar Raju |
| Production (Banner) | Chilukuru Balaji Productions |
| Stunts | Ravivarma |
| Presenter | B Z Zameer Ahmad Khan |
| Sound Recording (Songs) | Ashwini Digital Studio |
| Sound Recording (Dialogues) | Mahendar, Saravanan |
| Sound Recording (Rerecording) | Ramesh |
| Production Controller | N Shivashankar |
| Public Relations | Venkatesh, D V Sudheendra |
| Dubbing Artist | Vikram Suri, Nayana, B T Manjunath, Murthy, Sudarshan, Pavana, Asha, shashikala, Veena, M Vidya, Shivamurthy, Lakshmi, Uma, Muktha |
| sound effects editor | V Rajan |
| DTS | Media Arts |
Interesting Facts and Trivia
[
Top ⇑
]
The comedy sequences involving Daisy Bopanna was borrowed from the Tamil movie Ghajini and the main plot from the Telugu blockbuster Manmadhudu starring Nagarjuna and Sonali Bendre.
Similar/ Related Movies
[
Top ⇑
]
2006 movie by Kishan Shrikanth
Actors & Actresses: Kishan Shrikanth, Jackie Shroff, Saurabh Shukla
Drama
a 2007 movie by Mahesh Babu
Actors & Actresses: Ashwath Narayana, Puneeth Rajkumar, Srinivasamurthy
Drama
a 2006 movie by M D Sridhar
Actors & Actresses: Golden Star Ganesh, Rekha Vedavyas, Devaraj
Romance, Drama
a 2002 movie by Indrajit Lankesh
Actors & Actresses: Anirudh, Rekha Vedavyas, Chaya Singh
Romance, Drama, Comedy
2003 movie by Indrajit Lankesh
Actors & Actresses: Darshan Thoogudeep, Vasundhara Das, Aditi Gowitrikar
Action
2003 movie by M D Sridhar
Actors & Actresses: K Shivaram, Meena, Shivadhwaj
Drama
a 2008 movie by Ravivarma
Actors & Actresses: B Jaya, Dwarakanath, Sadashiva Brahmavar
Romance, Drama
a 2010 movie by M D Sridhar
Actors & Actresses: Darshan Thoogudeep, Pranitha Subhash, Devaraj
Romance, Mystery, Drama
2010 movie by Indrajit Lankesh
Actors & Actresses: Sameer Dattani, Lekha Washington, Sadha
Romance, Drama
a 2011 movie by Karan
Actors & Actresses: Jayasurya, Nisha, Srinath
Drama